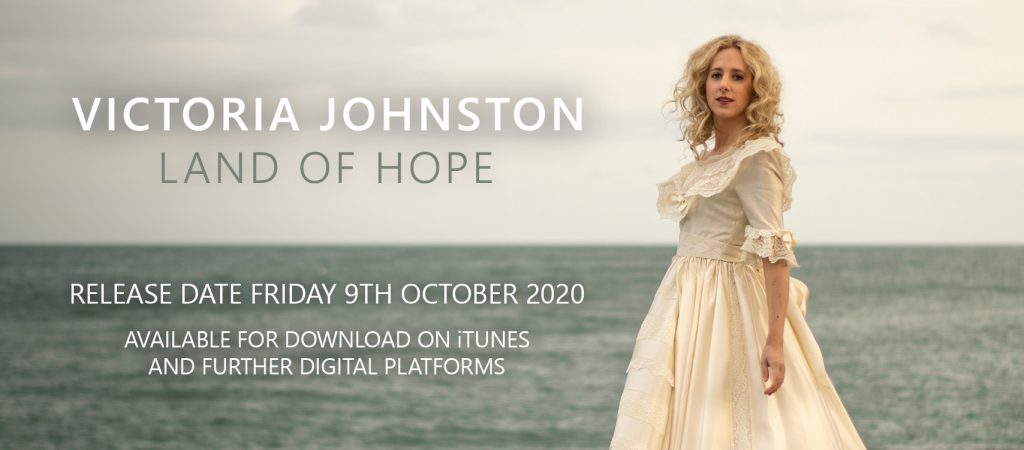 Victoria Johnston is a singer and composer from Dublin, Ireland.
Victoria Johnston released her debut original solo artist singles 'Tar Liom' ('Follow Me') and 'You Are The Peace' on Friday 13th March 2020. Both singles went to No.1 in the overall iTunes charts in Ireland.
Tar Liom also went to No.1 in the World Music Charts (iTunes Ireland).
You Are The Peace also reached No.1 in the Christian / Gospel charts (iTunes Ireland).
The tunes turn out to be as impeccable as her credentials…She is already being hailed as the next Enya' – Hotpress Magazine
'Tar Liom' and 'You Are The Peace' were recorded and produced by Grammy nominated Producer Denis Woods.
Denis Woods is previously of Windmill Lane Studios and has worked with artists including Clannad, Moya Brennan, U2 and AC DC. Film music credits include Room With A View, Howard's End and Breakfast on Pluto.
Since the release of her debut singles in March 2020, Victoria Johnston has appeared on Ireland's premier national TV station  RTÉ ONE, in addition to receiving radio airplay on national and regional stations across Ireland including BBC Radio Ulster and RTÉ Radio 1.
Following the success of 'Tar Liom' and 'You Are The Peace', Victoria Johnston has also been interviewed by VOX Magazine and The Stories Tour Podcast (by writer Alex Marestaing – Disney, L.A. Times and Lego).
Victoria Johnston, a classically trained singer, pianist and composer from Dublin, Ireland, began her classical music training at the Royal Irish Academy of Music at the age of 9 where she received annual scholarships. She continued her music training in college and holds a BMus Degree in Composition from DIT Conservatory of Music and Drama and also an MPhil in Creative and Cultural Entrepreneurship from Trinity College Dublin.
While studying at Trinity College, Dublin she also received a scholarship to sing with the Trinity Chapel Choir. In recent years Victoria has performed with various groups and bands in some of Ireland's prime music venues including The National Concert Hall, The Bord Gais Energy Theatre and the Helix Theatre.
In launching her career as a solo artist Hotpress Magazine recently double-featured Victoria Johnston as 'New Artist' and 'New Music' to watch for in 2020.
Victoria Johnston's upcoming single "Land of Hope" will be released on Friday 9th October 2020.